Zeta
Collaborate. Publish. Develop. Extend.
You are here:
Zeta is a CMS and Web Application Platform for collaborating teams in the IT sector. It provides simple yet powerful collaboration modules, such as a task planner or a chat, a simple and extensible CMS, a simple project management module, and an OpenPGP key manager.
Capabilities
CMS
Zeta's CMS provides you with a simple and powerful interface to publish articles just like anybody is doing on their blog. However, you may configure your pages you create with the CMS the way you want them to be, as Zeta provides you with a simple and easy-to-configure interface for placing specific static content on your single pages.
From the first version on, Zeta has supported nested pages, meaning pages were — and still are — able to have other pages as their children (so-called sub-pages), which, in turn, also may contain articles and are as configurable as their parents. All pages (incl. sub-pages) can contain any number of static content and articles, the only limit is your disk size!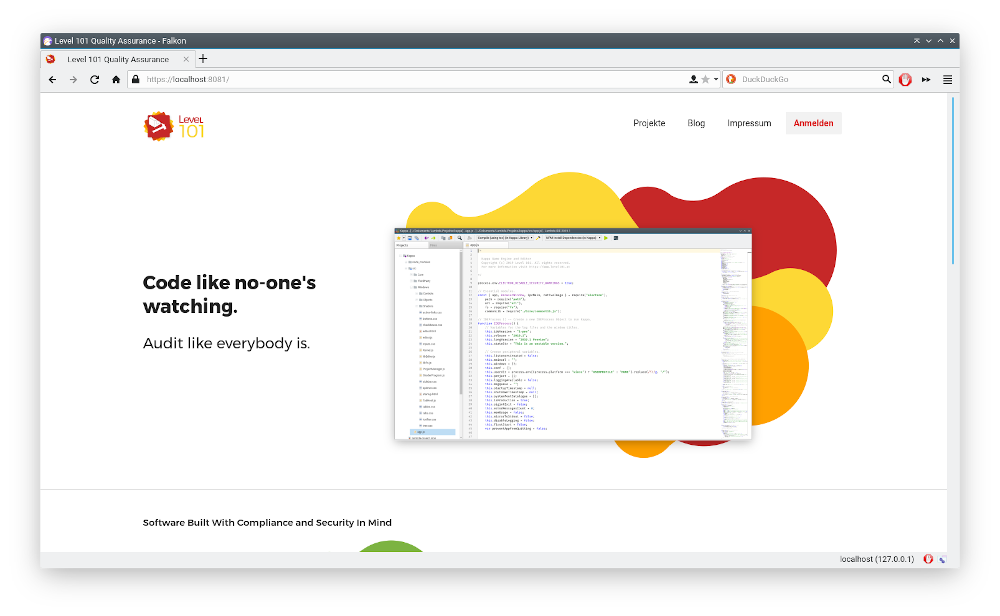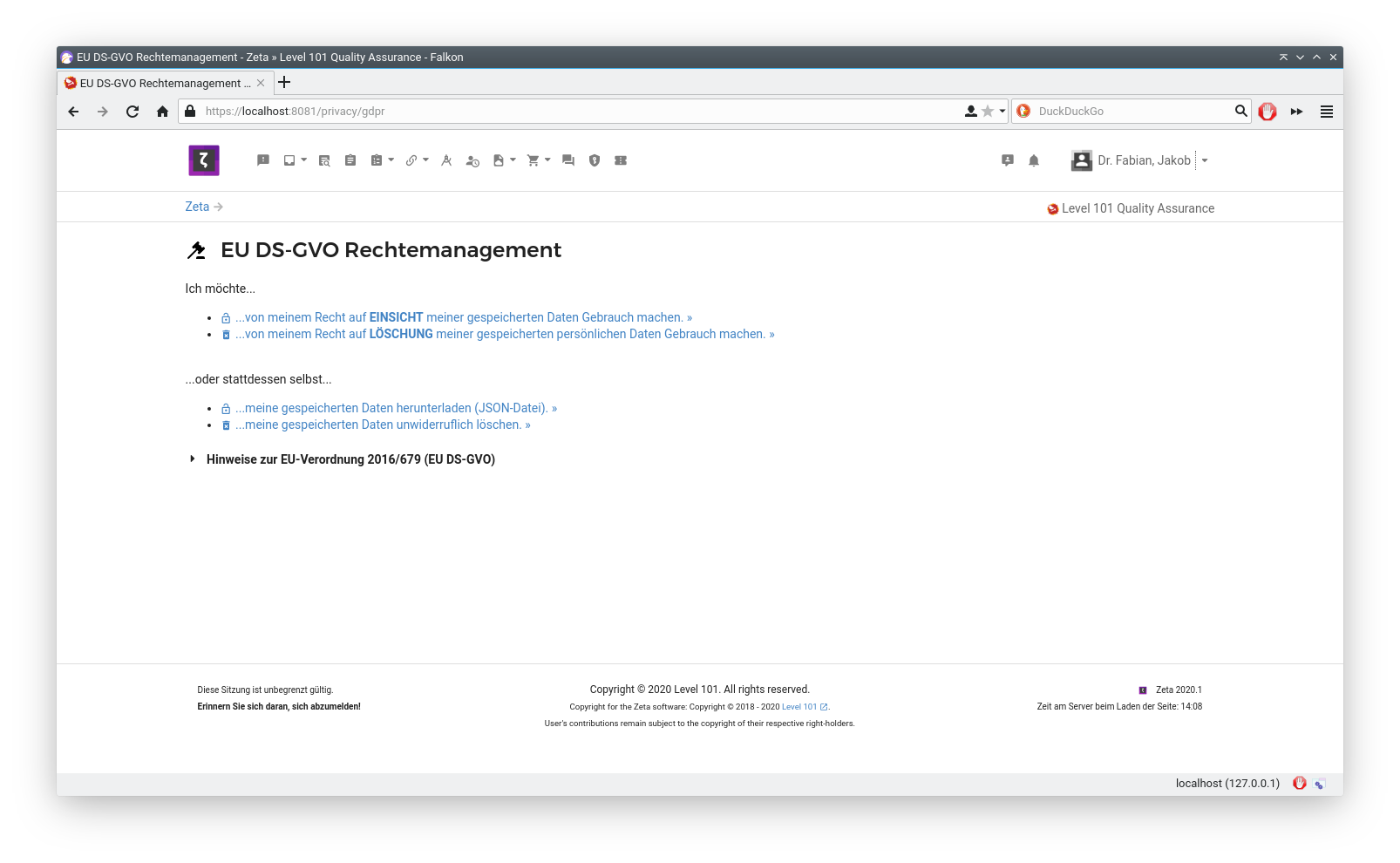 Compliance
As we said on our frontpage, we, that is, Level 101, are obliged to comply to the laws of the European Union, which has brought one of the most strict data protection laws forward: The "General Data Protection Regulation", GDPR in short, has been defined as "Regulation (EU) 2016/679 of the European Parliament and of the Council".
Thus, we have chosen to take the pressure off the website operator and instead implement a fully automatic personal data management tool into Zeta, known as the "EU GDPR Digital Rights Management" tool. This lets you download your data stored in Zeta in the digital file format known as JSON. Using this file format, everybody having access to Zeta (i.e. by having a web browser), is able to export and view their data tied to their Zeta account. Just download your data, view it in the browser of your choice, and know everything Zeta knows about you!
Project Management
As a tool for collaboration, Zeta provides a project management tool, whose public part you are currently using. (Yes, this page runs Zeta!)
Zeta's "Projects" module provides you with an addition to the CMS module to allow for a public presence of your projects.
These "project pages" are equally configurable as the CMS pages, the single difference is that all content on project pages is static, meaning that you cannot publish blog entries or other articles on your project's spaces.
Because Zeta provides an extensible, well-designed high-level API, you may of course add functionality to Zeta, like new blocks for project management and CMS pages, for example. Once Zeta will be publicly available, the API documentation will be released as well.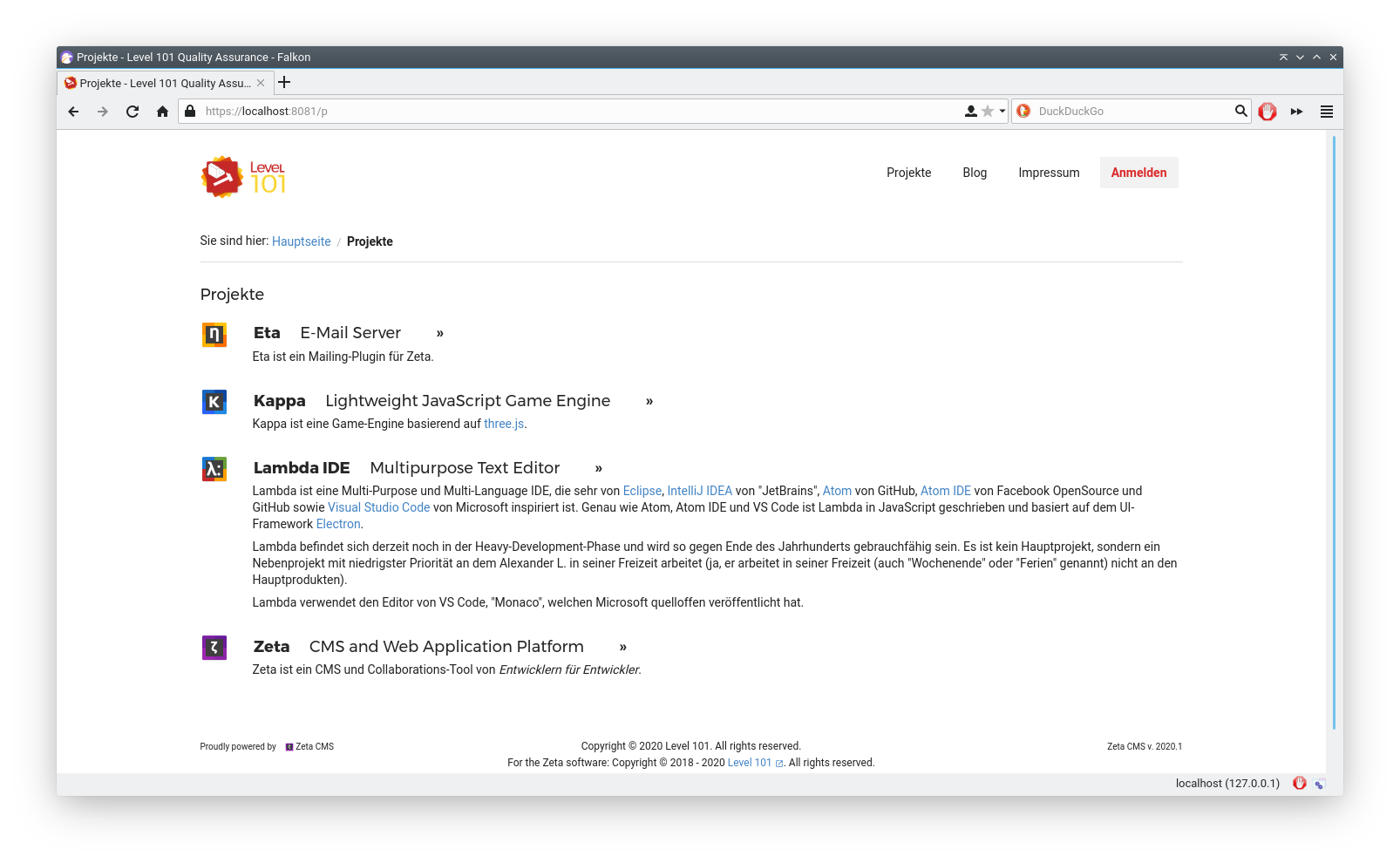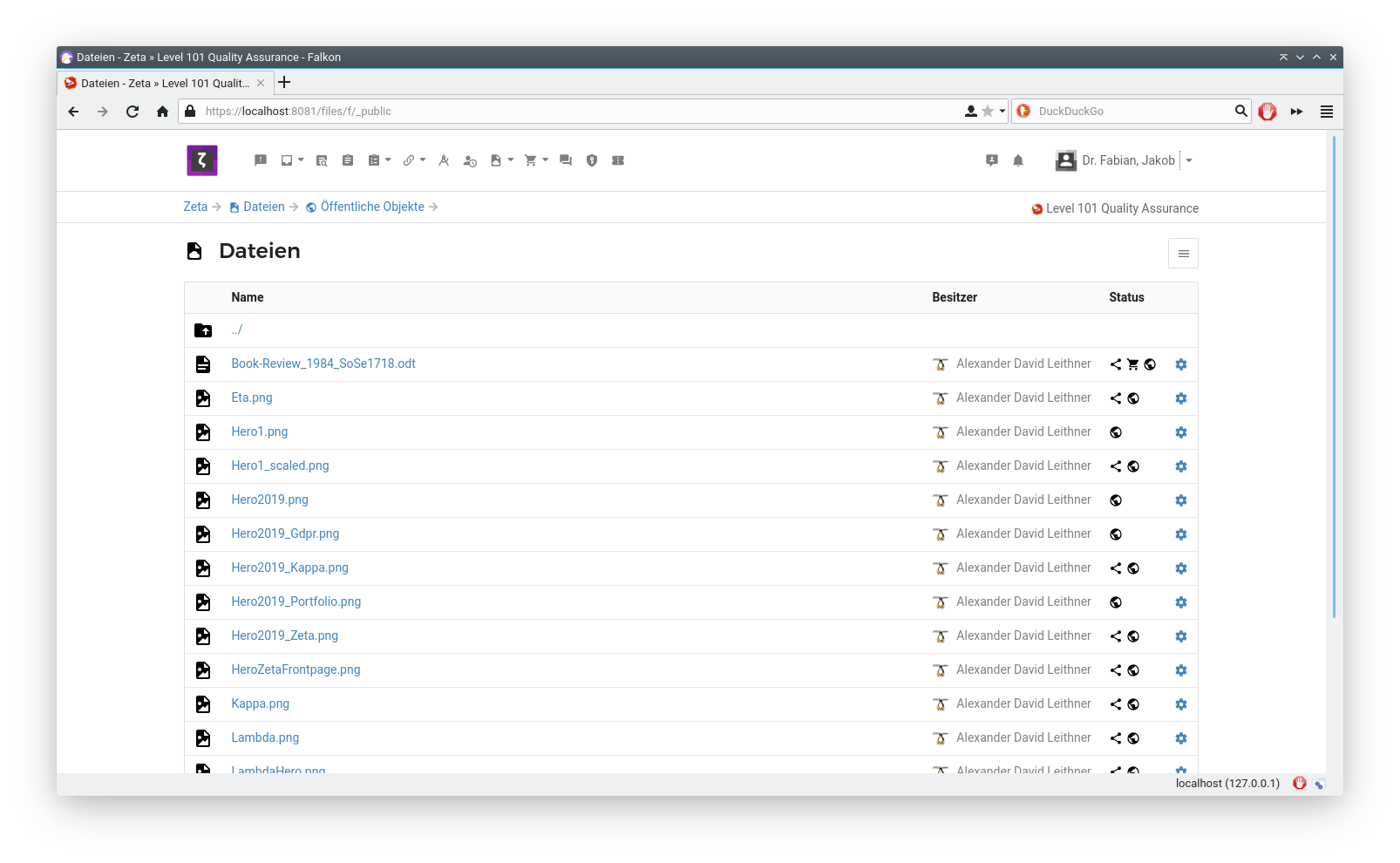 File Management
To be a complete collaboration tool, we thought that Zeta may as well include a nearly complete cloud infrastructure, known to the user as the "Files" module. This module allows uploading, organising and sharing your files. If you choose not to share your files, well, then they're just visible to you. Once shared, every team member has access to them.
This simple cloud module is the base for all multimedia management of Zeta. It is used for CMS images, as well as project logos, screenshots, and the like. All screenshots seen on this page are managed through Zeta's cloud module.
Fine-grained permission management will be available to all Zeta users once released to the public.
Trust Management
Zeta provides companies, teams, or just the average open-source software project with the possibility to establish a "web of trust". That is, that Zeta is capable of generating and hosting cryptographic keys which all are "signed" (or "trusted") by one root keypair. Every person importing this root keypair (and trusting it), will see that the keys of any Zeta user have been signed by this root keypair and thus trust these keys too (to some extent).
Zeta does this by providing users and companies with the ability to create state-of-the-art cryptographic keys using a format and technology known as OpenPGP. The keys produced use a procedure named "elliptic curve cryptography" where the keys are derived from an equation describing an elliptic curve. The equation used is specified and known as Curve25519. This curve and the procedure together are, according to Edward Snowden, the German Chaos Computer Club, the German Magazine "Der Spiegel" and the online magazine "The Verge", uncrackable by intelligence agencies.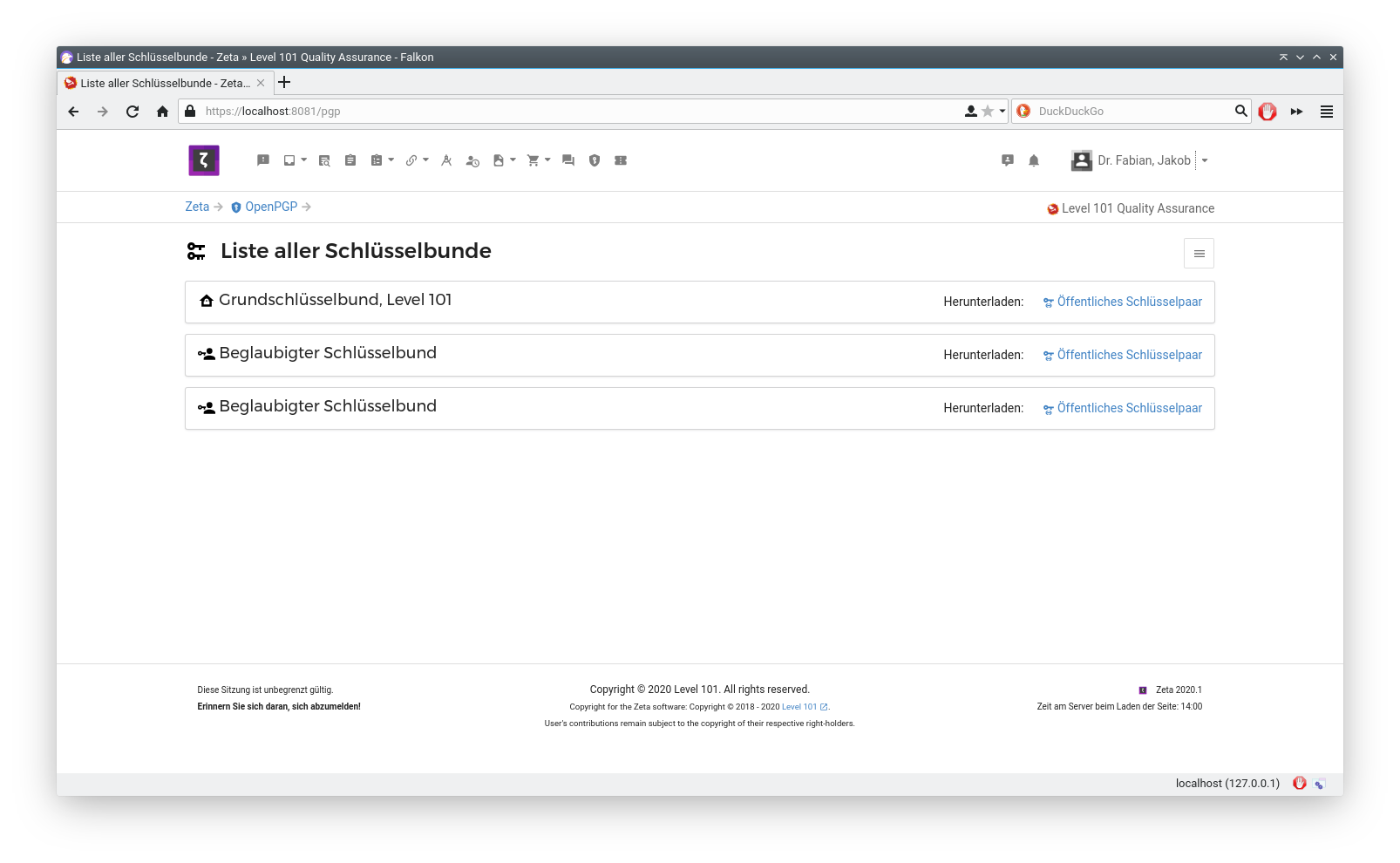 Business API
Zeta provides companies with a simple way to manage their customers. This includes an easy way to comply with EU GDPR (see above), also for their customer companies. The Zeta business API provides developers with a starting point for fully featured business applications, such as an ERP or accounting software, or order handling.
Also, with the use of Zeta's frontend UI and API, developers are able to create software like online shops or similar.
Java API
As Zeta is written in Java, it also can be extended by relying on Zeta's low-level Java APIs. This provides developers with a way of extending various features of Zeta, or even building their own sub-systems or extensions, providing completely new functionality. Zeta will load plugins at startup from disk out of JAR files.
Team Communication
Zeta provides a bunch of ways for teams to communicate with each other. A chat application, a digital mail application (not E-Mail) and an announcement module for global messages, are built right into Zeta, cooperating with each other, making communication very easy.
Also, a task management tool with time tracking built in is available for use.
Document Authenticity Checks
Every document created through Zeta or Zeta's API will be recorded in Zeta's database and a barcode will be printed onto it. Using this barcode, website operators can check the autenticity of the document they hold in hands. If there's no or a false match in Zeta's document search mask, then someone's likely tampered with the document.
Gaining Access
Currently, Zeta is in a state of private access, as it is currently not proven to be 100 % production-ready. As such, we have chosen not to publish it on this website for now. However, you may apply for a private testing instance by contacting us via E-Mail (see below). Please be aware that we reserve the right not to grant you access to Zeta without giving reasons and that, if your application has been successful, we may grant you access only to specific conditions. We would like to know how you found Zeta, why you would like access to it, and what you want to do with your Zeta instance and will be pleased if you included these details in your E-Mail.
Contact Us
Public Availability
We expect Zeta to be fully production-ready by the end of 2020, so over the course of the 2020.x series, we will focus on fixing bugs and other show-stoppers. However, since all documentation Zeta currently has, is as technical as a programmer's manual, we expect the first public release to come by the mid of 2021, including a public and complete documentation.
Also, we have not yet decided on the release model of Zeta. We are unsure if we will release Zeta as open-source software, which we certainly would like to do, but most of Zeta was and will be pretty time-consuming, which is why we might only include the basic, core code of Zeta in that open-source release, and the modules (or, at least, the biggest and most frequented) only in a closed-source package (free or not).